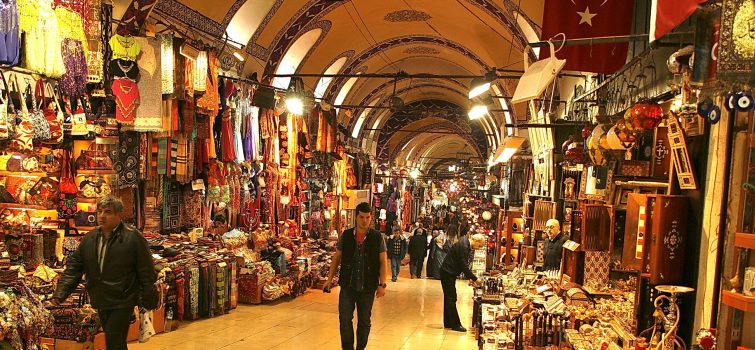 There are thousands of things you can find and purchase in the Grand Bazaar. The gate that one usually enters into the bazaar is called "Nuruosmaniye Gate" that means "the light of the Ottomans". That takes you directly to a shining street full of jewelry stores. Jewelry is one of the things could be purchased. Gold prices are not low but due to the lower workmanship costs, you may find a huge variety of gold, precious stones and semi precious stones like sapphire, ruby or emeralds at reasonable prices. Bargaining is always possible.
Before you purchase, it's recommended to ask more than 3-4 shops so that you can get the best price. The main street goes all the way up till the other exit and it's all full of jewelry stores….
A nother item which is important to our culture is carpets . When you're walking on the streets in the Bazaar, some people might approach you and invite you to see their collections of carpets. They are commission-men and if you like them you can go to the shops they mention but you may also reject them. They seem insistent but if you don't care about them, they go away. Carpet shops are usually spread out to smaller parallel streets and the purchasing decision is usually very hard. When you walk into a carpet shop, you're first offered coffee, tea or coke without any obligation of buying usually with a warm smile. The carpets are from several different regions of Turkey and the salesman tells about them one by one starting from less quality ones to higher quality (higher price of course!) ones. Bartering with them is a real fun!
O ther than those of higher value items, there are good leather shops in the Bazaar. Leather could be found in a han on the left hand side of the main street called "Leather Goods Section". There are also good ceramic items, wall plates and good tile plates. You may also find silverware, copperware, fake brand t-shirts like Tommy Hilfiger as well as good Istanbul or Turkey t-shirts all around the bazaar.
There are also belly-dancers costumes and traditional folkloric costumes. As you walk into deeper sides of the bazaar, you may explore heavens of religious icons, antique or used watches or old pages of calligraphies. One cheaper thing is the amber stone. You may find beautiful amber-stone work in the bazaar.
Today it covers an area of approximately 31thousand square meters with its over 3000 shops (some even say 4000), 17 inns (Han), 61 streets, over 20thousand employees, 4 fountains, 10 wells, 2 mosques, several cafes and restaurants, change offices, a police station, and 22 gates. It resembles a giant labyrinth and can be a little complicated for the first time visitor, but after a couple of visits there you can familiarize with it because streets are arranged almost on a grid plan, and shops tend to group themselves according to the type of goods they sell.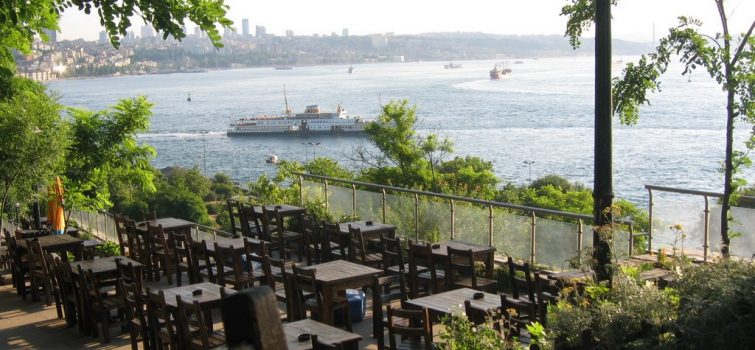 This park was royal hunting grounds in the past. Today it's a public park with lots of seasonal flowers, including huge patches of tulips in early April, and huge plane trees (platanus)—which means lots of shade as well. The high walls on one side of the park seperates it from Topkapı Palace. At one end of the park are a group of nice outdoor cafés—all of which basically serve the same drinks and snacks—with a view of Bosphorus, a view that is as charming as the view from the Palace situated right above. Those cafés sell tea by teapot (which holds over 5 glasses of tea), they only serve one glass if you order one-person-teapots.
Bab-i Hümayün Caddesi (by tram: Gülhane Station)
Visitor Hours: between 09:00-19:00 hours everyday. 100 meters away walking from our hotel.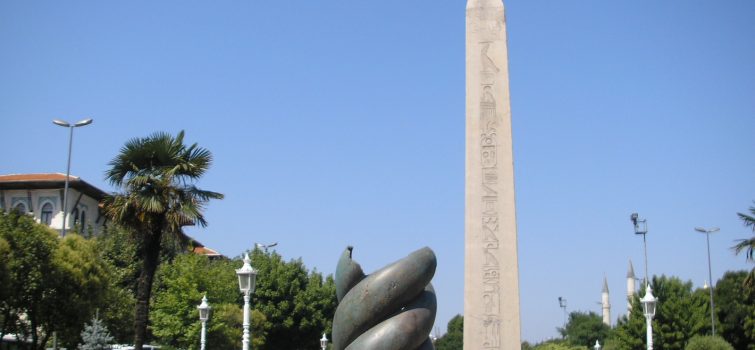 It is not only the Hippodrome's, but also Istanbul's oldest monument. It is dated as 15th century BC; that is to say, this obelisk is 3500 years old. The Pharaoh made it built fort he memory of his victory. There are similar ones in Egypt and in many other big cities of Europe. In 390 BC, the Byzantine Emperor Theodosius I brought it from Amon Temple of Karnak in the Luxor region in Egypt and it was erected in its present place of today.
Although in every 100 years average 6.5 scale earthquakes hit the city of İstanbul, it has been standing here for the past 1600 years without getting any damage. It is made from pink granite and its weight is about 300 tons. Although the original was 32.5 M high, 40% of the bottom was cut off for transportation. It is 20 M high today. On each four faces of the Obelisk, there are Egyptian Hieroglyphics that tells about the bravery of Pharaoh Tuthmose. At the top, God Amon and the pharaoh were pictured hand in hand.
The hawk name Horus below symbolizes the beginning of the text. Some human figures were destroyed, and also some letters below were cut from the center. The reason why the bottom of the obelisk is not flat is because there are 4 bronze feet under it. It is known that water games were held in the water canals attached to the feet. And at the very bottom, there is a marble base constructed in 389. on every four faces of this base, there are scenes from the activities, taken place in the Hippodrome.
Many reliefs such as the Emperor's lodge, erecting the Obelisk, dancing before the races, horse races, Emperor receiving gifts were carved on the marble base.
Adjacent to the Basilica Cistern, Between Blue Mosque and Hagia Sophia. This was the center of Roman and Byzantine Constantinople, and is a great place to begin one's tour and to watch people. The building no longer stands, but the obelisks and sculptures that have been collected here since Theodosius' time in the fourth century remain. The four bronze horses in the facade of St. Marco in Venice used to be on top of the Emperor's box in the Hippodrome and they were looted by the crusaders in 1204. While you are on your way to the hippodrome, don't forget the German Fountain (Alman Çeşmesi), a neo-Byzantine style fountain building at the square leading to Hippodrome. It was a gift sent by German Kaiser Wilhelm II to the Ottoman Sultan.
Sultanahmet (by tram: Sultanahmet Station)
700 meters away walking from our hotel