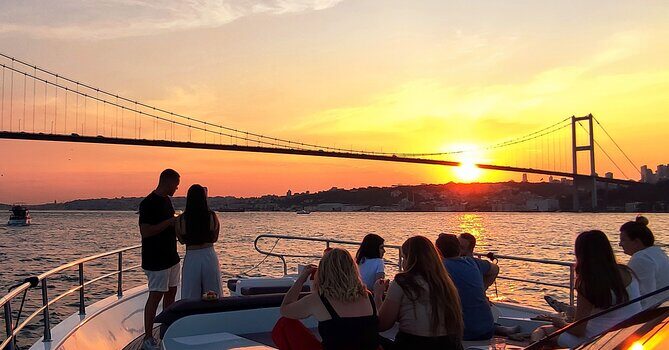 Witness the enchantment of Istanbul with a 3 Hour evening cruise along the beautiful Bosphorus! Aboard the glass-encased luxury yacht, enjoy the city's main attractions at dusk, including the Dolmabahce Palace, Ortakoy Mosque, Rumeli Fortress, Bosphorus Bridge, Maiden's Tower and much more…
Savor a delicious tradational Turkish drink (demirhindi) and canapés as you cruise the strait and delight in the magic of Istanbul's urban shoreline as night falls.
Duration: Short cruise (3 hr.)
Departure: Everyday (April 1st – December 30st)
Tour Type: Regular / Group Tour
Start/Finish: Start at 18:00 – Finish at 21:00
Price: 19€
Enjoy a cruise on the Golden Horn and Istanbul Strait. View Istanbul's vista from a different perspective.
Explore 2 fascinating sides of the city with a cruise along Istanbul Bosphorous. Immerse yourself in vivid, rich history and landscape while discovering this wondrous cultural landscape.
While cruising in Golden Horn see Pierre Loti Cable Car, Eyüp Mosque, Saint Stephan Bulgarian Orthodox Church, Phanar Greek Orthodox College, Rahmi Koç Museum, and Galata Tower.
Make your way to the coasts of Istanbul Bosphorus. Cruising along the coastline, gaze at the views of the opulent Çırağan Palace and the simplicity of the solitary Maiden Tower (Kız Kulesi).
On that tour, we'll pick you up from the hotel (city center hotels), then you shall meet with your group and guide at the meeting point. We will cruise on Golden Horn and Bosphorus. And we'll see from the sea many many places. After the tour, we shall drop you off to your hotel.
Duration: Short cruise (3 hr.)
Departure: Everyday (April 1st – December 30st)
Tour Type: Regular / Group Tour
Start/Finish: Start at 10:00 – Finish at 13:00
Price: 19€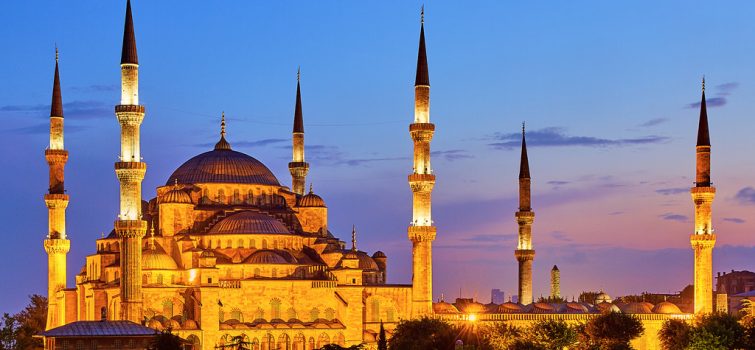 After the Peace of Zsitvatorok and the unfavorable result of the wars with Persia, Sultan Ahmed decided to build a large mosque in Istanbul to placate Allah. This would be the first imperial mosque in more than forty years. Whereas his predecessors had paid
With its six minarets and sweeping architecture the Sultanahmet or 'Blue' Mosque impresses from the outside. Unlike Haghia Sophia, this is still a working mosque, entry is through the courtyard on the SW side which is back side of mosque. No shorts or bare shoulders (shawls are provided) and you will need to remove your footwear (bags are provided that you can place your shoes in). Entrance is free, but donations are welcome upon exit. The mosque is closed during ritual prayer but mosque volunteers provide you with a free presentation about the Mosque and also about Islam during that period.
Sultanahmet (by tram: Sultanahmet Station)
Visitor hours: 09:00-21:00 hours everyday, except pray times. 700 meters away walking from our hotel.