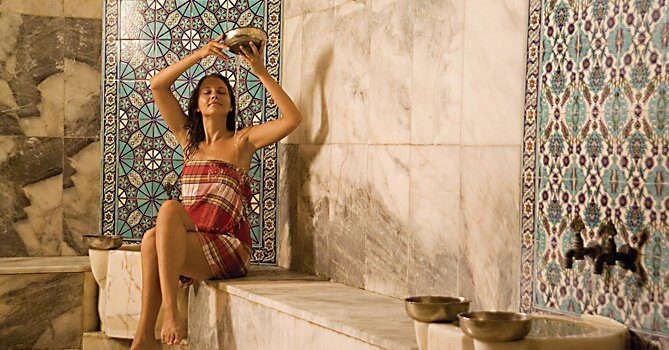 If you wish to enjoy the Turkish Hamamı as it have been done for centuries and to feel as a sultan, after sweating leave yourself to the adept hands of our attendants.
We will give you an exquisite scrub and massage; every cell of your body will start to breath, your blood circulation will speed up, you will loose the dead cells and re-vitalize. After the scrub and massage leave yourself to the masterful water and let our attendant wash you at the marble basin.
Massage with oil made of flower essences specially produced for Turkish Hamamı, will relive you from stress; you will feel relaxed and peaceful.
Pleasant aromas will touch your body and soul. You are in Istanbul, at Hamamı. This is the end…
Packages:
Traditonal Turkish Bath:
(40 Minutes)
Sauna + Scrubing + Foam massage
Price: (39€)
---
Detox Therapy:
(70 Minutes)
Sauna + Scrubing + Foam massage + oil massage
Price: (49€)
---
Cruise the beautiful Marmara Sea to Princes' Island by boat.Take the ferry to one of the Princes' Islands, Buyukada (Big Island) which is a quiet sea front town and summer holiday escape from the city. Leaving the Golden Horn by ferry, you will round Sarayburnu (Seraglio Point), the headland on which the domes and minarets of Topkapi Palace, Hagia Sophia and Blue Mosque can be seen.
We will pass four islands with their charming old Ottoman houses and finally reach Buyukada, the largest of the islands. Upon arrival to the island, you will see the lavish Ottoman mansions and other beautiful Victorian summer villas around the island .
You will enjoy a delicious lunch in a cozy sea-side fish restaurant and relax looking back at the domes and minarets among skyscrapers of modern Istanbul's skyline. This a perfect day for relaxing and enjoying one of Istanbul's residents' favorite summer retreats. Return by ferry and drop off to hotel or port.
Duration: Full day
Departure: Everyday (April 1st – December 30st)
Tour Type: Regular / Group Tour
Start/Finish: Start at 08:30 – Finish at 22:00
Price: 29€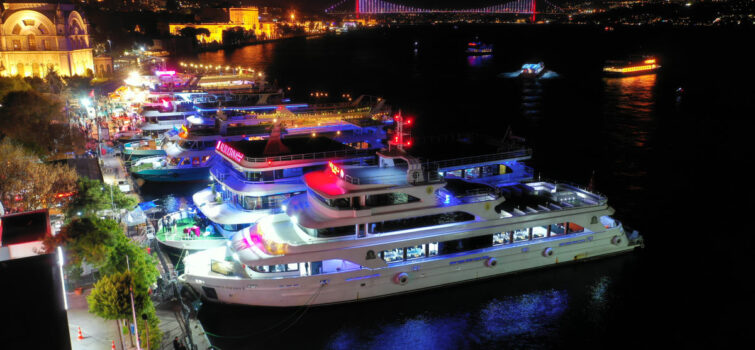 We offers a memorable dinner in the middle of bosphorus, with the bright lights of bridges and impressive historical buildings.
As yo step-on board, you will be greeted by experienced team and showed your own private table. As you sail on impressive Bosphorus, your dinner will be served and just after your dinner Dance Team will perform traditional dances for you.
Whether you want to celebrate an anniversary, birthday, valentines day, new year's eve or just want to have a memorable dinner then look no further than the impressive Bosphorus.
Duration: Short night cruise (3 hr.)
Departure: Everyday (April 1st – December 30st)
Tour Type: Regular / Group Tour
Start/Finish: Start at 21:00 – Finish at 00:00
Price: 49€ without alcohol / 69€ with alcohol