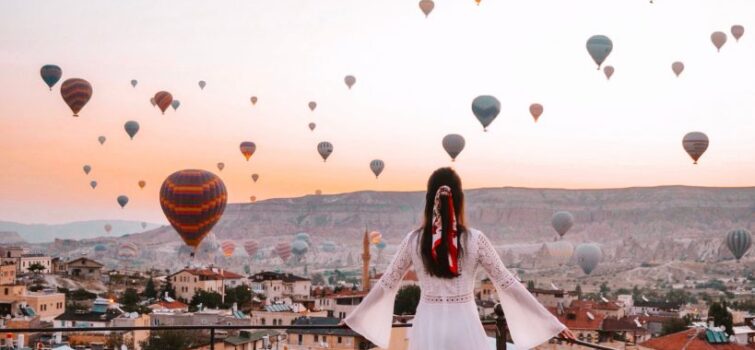 Discover the otherworldly wonders of Cappadocia on this immersive overnight tour, including a one-way flight from Istanbul. This tour is designed to make your travels hassle-free and informative. Explore Cappadocia's stunning terrain on a hike through the Rose Valley, admire fairy chimneys, blue skies and houses that have been carved into the sides of mountains at Çavuşin and the UNESCO-listed Göreme Open-Air Museum. Rest in comfort at a local hotel, included in the tour.
If you choose, upgrade your trip by opting in for an unforgettable hot air balloon ride over Cappadocia. 2-day Cappadocia tour including a flight from Istanbul to Kayseri Hike through Rose Valley and then visit Çavuşin's stone mosque Explore Kaymakli Underground City where Turkey's early Christians hid from persecutors Visit Göreme Open-Air Museum, a UNESCO World Heritage Site Upgrade to see aerial views of Cappadocia's lunar landscape from a hot air balloon! Overnight hotel accommodation in Cappadocia included.
– Istanbul airport transfers x 2
– Cappadocia airport transfers x 2
– Istanbul to Cappadocia Domestic Flight
– Cappadocia to Istanbul Domestic Flight
– 1 Night boutique accommodation in Cappadocia
– North Cappadocia tour with professional tour guide and entrance fees
– South Cappadocia tour with professional tour guide and entrance fees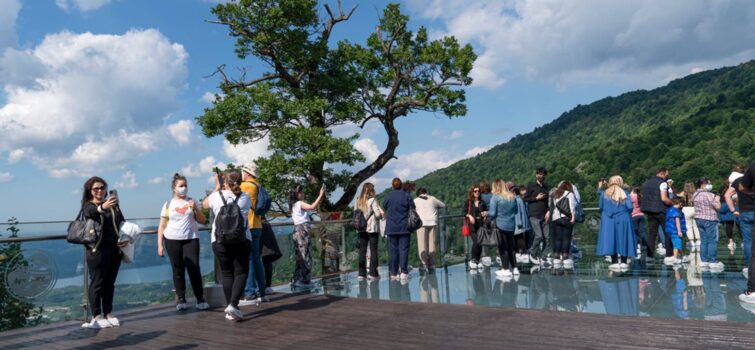 This full-day tour combines multiple aspects, giving you the chance to visit a charming village, a serene lake, a waterfall and a zoo. You will observe the local way of life in the village of Masukiye, hike along the picture-perfect lake shore, have outdoor lunch near a shady waterfall and walk to Kartepe mountain with the option of going for a cable car ride before returning to the city. Also, you will have the opportunity to visit a shopping mall outlet and buy some gifts and souvenirs to take back home. Suitable for people of all ages, the tour combines everything you need for a joyful vacation day, and you will take a break from Istanbul's busy streets and escape into the countryside.
Highlights: Sapanca Lake, Sapanca Zoo, Maşukiye village, Maşukiye waterfall, Kartepe Mount, shopping at one of Istanbul's largest malls.
Includes: a local guide, lunch, transfer, hotel pick-up and drop-off, entrance fee. Minimum 1 person.
Duration: Full day
Departure: Everyday (April 1st – December 30st)
Tour Type: Regular / Group Tour
Start/Finish: Start at 08:30– Finish at 22:00
Price: 39€ 
Explore the first capital of the Ottoman Empire. Enjoy a full-day trip from Istanbul to see Bursa situated on the slopes of Mount Uludag. Start your journey with a pickup from your hotel on Istanbul's European side.
Next, you will transfer to the port to catch a ferry and cross the Sea of Marmara. Relax and enjoy the ride to Bursa, the former Ottoman capital. Upon arrival, visit the Green Mausoleum and Grand Mosque, Ulu Cami.  See historic bazaars, sample some local produce of the region, such as chestnuts, honey, olives, and Turkish Delight.
Next, climb a mountain and tuck into a delicious barbecue lunch. Enjoy some free time to take an ATV safari, or a minibus to the ski slopes for a spot of skiing, if you like. Finally, you will see the gorgeous old three which is more than 600 years old. Once the tour ends you will be dropped off at your hotel in Istanbul.
Highlights: Green Mausoleum and Grand Mosque, cable car to the top of Mt. Olympus, Uludag Mountain, old Silk Market, Silk Road.
Includes: a guide, tour coach, lunch, central hotel pick-up and drop-off (there is а meeting point in the Old City for other hotels), cable car ride.
Duration: Full day
Departure: Everyday (April 1st – December 30st)
Tour Type: Regular / Group Tour
Start/Finish: Start at 08:30– Finish at 22:00
Price: 39€