Our Rooms
The Empress Theodora Hotel will make you "feel like an Emperor" in its 18 luxury rooms, each of which harmonizes the modern lifestyle with traditional Greece touch. With its luxuriously inspiring design and landmark old city location, steeped in the history of its surroundings, Hotel Empress Theodora welcomes you with exceptional Greek style and world-renowned Turkish hospitality.
The hotel rooms have been given the style of the Greece Empress Theodora most important emperor's wife.
This experience will take you back in time, as you enjoy the enchanting stories of their past.
Testimonials
"
A truly outstanding experience! My wife and I had a fabulous 5 nights staying at your Hotel, I recommend this hotel! And their location is just g...
"

"
A good hotel with clean rooms and attractive staff, so attractive in fact the room service was a little more than myself and my husband expected!...
"

"
Great service, you can't beat a full English fry up at 9am delivered directly to your room! Sorry about the mess İ left in the room 😀 What can ...
"

Book Directly by using Hotel's reservation services and enjoy the best values.
Call Us On: +90 (212) 514-89-89 or Email: booking@empresstheodorahotel.com
Book Your Room Now
Activities To Do In Turkey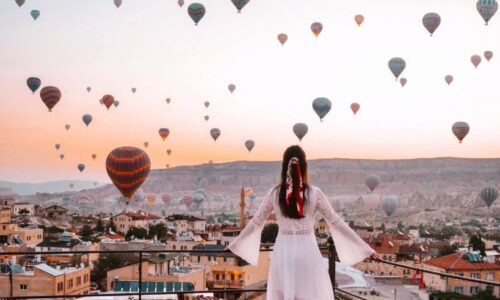 Discover the otherworldly wonders of Cappadocia on this immersive overnight tour, including a one-way flight from Istanbul. This tour is designed to make your travels hassle-free and informative. Explore Cappadocia's stunning terrain on a hike through the Rose Valley, admire fairy chimneys, blue skies and houses that have been carved into the sides of mountains